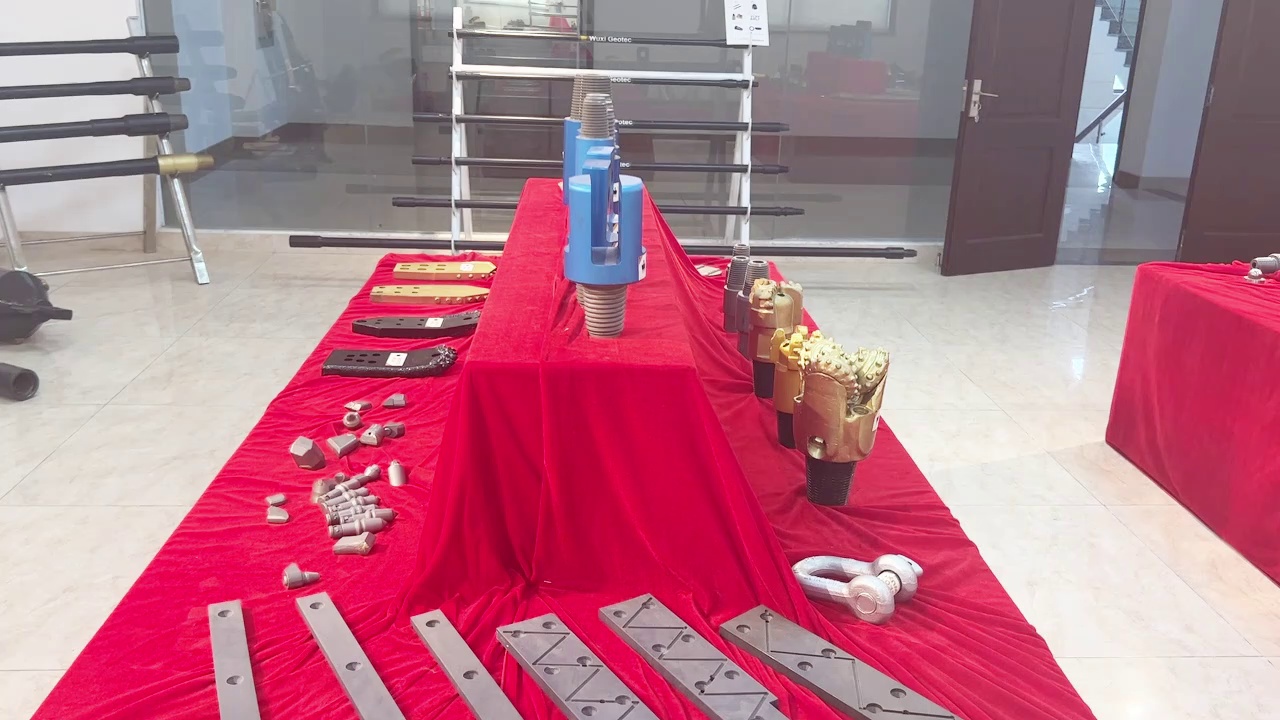 Drilling Accessories And Machine
Zipper closure 1/5 zip athletic pullovers for men. Stretchy, lightweight, fast-drying fabric for superior performance. REGULAR FIT - US standard sizes. An athletic fit that sits close to the body for a wide range of motion, designed for optimal performance and all day comfort. FEATURES - Quarter zip closure;Thumbholes on long sleeves to keep them in place during workout
Sub
Describtion:
Our sub saver will keep your drill rod threads safe and sound. Boost your drive chuck's life by adding a replaceable sub-saver to bear the brunt of the wear so your drill rod threads don't have to. Changing out worn sub-savers and drive chucks is an inexpensive and easy way to get the maximum life out of your drill rod. If they are allowed to wear too much, a drill rod's threads will start to deform to the shape of the worn sub-saver threads.

Performance Features:
·Drive chucks are built to the exact specifications of the original equipment manufacturer.
·Made of high-alloy steel for high strength and durability.
·CNC-machined for a perfect match with your drill rod."
Cone rock reamer
165 / 172 High torque drill rock motor : High speed of revolution

Cavity Probe High Flow sub : Signal resistance is small improve accuracy of orientation

Mud Flow area is Large to lower cycle pressure and improve ability of sand return ;

Damping device is equipped in the cabin , which could protect cavity From not being damaged by vibration efficiently It protects cavity probe against shocks and extends service Life
Swivel
Product Description
HDD swivel is an essential part for all horizontal directional drilling works .

HDD pull-back swivel must be able to bear both the pull strength imposed by pull-back actions and swivel strength and side-load resulted From rock or other conditions , Bearings of the swivel joints here at our company are suitable for absorbing thrust and radial Load . Our HDD swivel joints adopt specially designed sealing elements , whichcan prevent an early Failure of bearings resulted from entry of dirt into the bearings , The pull-back swivel joints here at our company are available to undertake mud , dirt and any other underground objects and they are easy For maintenance.

Features
1 . Geotec is available in providing various HDD swivels , including models covering 15T , 25T , 40T , 60 80T 100T 200T , 300T 400T 500T 600T 700T 800T etc .
2 . Adopt high quality Forged alloy steel and bearings , such as SKF and TIMKEN
3 . Longer service Life and greatly reduce construction risks
4 . It is easy For dismantle and maintenance
Pull Tabs
Pull tabs is made by alloy steel and heat treatment , clevis consists of bow cross pin and nut
Features
1 . 100% screw thread inspection
2 . Made of heat-treated alloy steel
3 . The clevis pull tabs is diversified in sizes , perfect For all drilling equipment obstruction
Cutters
Our cutting tool can be matched with different tool bits For varied geological conditions to improve the cutting efficiency of the reamer.
Directional drilling accessories
We are able to provide optimum drilling products for you according to your specific needs and we are devoted to developing more products in this field.
HDD Machines
Crown HDD drilling rig mainly used for civic construction, it is steel track self-contained unit. The drilling diameter is designed from .

60 to 130 with hydraulic system, and easy for transportation.
1 Thread Nut

2 Octagon Adapter

3 D Shackle

5 Octagon Collar

6 Cutters

6 HDD Pipe Puller

7 Clamping Jaw

8 Thread Grease

9 Heavy Duty Pipe Wrench

10 Hydraulic Pipe Wrench

11 Tube Wrench

12 Rubber Truck
13 Cone rock reamer

14 Pull Tabs

15 sub

16 Swivel
Related Products