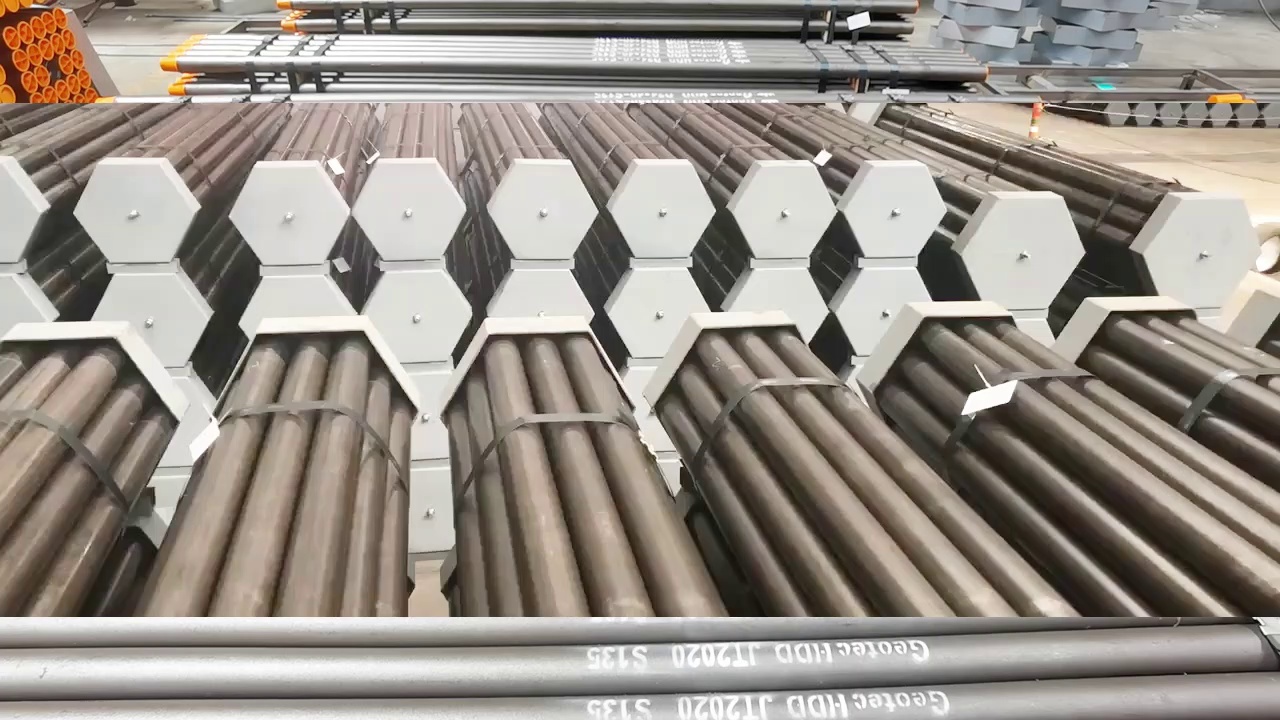 Forged & Friction Welding Drill Rod
Zipper closure 1/5 zip athletic pullovers for men. Stretchy, lightweight, fast-drying fabric for superior performance. REGULAR FIT - US standard sizes. An athletic fit that sits close to the body for a wide range of motion, designed for optimal performance and all day comfort. FEATURES - Quarter zip closure;Thumbholes on long sleeves to keep them in place during workout
No dig industry had developed rapidly these 20 years, Geotec Wuxi focus on design and provide horizontal directional drill rod with forged and friction welding technical.

Feature of HDD rod
1. Material: CROWN 950, Special material from BAOSTEEL, better concentricity & straightness.
2. Steel Grade: S135
3. Heat treatment: multi-point temperature measurement to guarantee perfect match between strength and toughness.
4. Nitrogen Process: only one manufacturer to use surface nitrogening on the whole drill rod, except longer the working life of thread, but also extend the service time for the body part.
5. Quality control: All the processes during manufacturing.
6. Manufacture Model: Forged One-piece and Friction welding rod.
7. Compatible Brand: Vermeer, Case, Ditch Witch and other Chinese models.
8. Delivery Time: Large stock, ready to ship.
Size Available
VERMEER COMPATIBLE HDD DRILL PIPE SPECIFICATIONS

Model of the rig


Connection


OD of
the Tube
(mm)


Wall
Thickness
(mm)


OD of
the joints/upset
(mm)


Working
Length
(mm)


Tempering
and
Quenching
Grade


Min
Bending
Radius
(m)


Max Torque
(N.m)

D6×6

FS1#200

38

5.5

48

1829

S135

17.47

1220

D7×11, D10×15 S3

FS1#200

42.2

6

48

1829

S135

29

2040

D10×14, D10×15

FS1#200

42.2

6

48

3048

S135

29

2040

D16×20A, D16×22 Series II D20×22 S3

FS1#250

48.26

6

54

3048

S135

30

2720

D20×22A, D20×22 Series II D20*22 S3

FS1#400

52.4

6.5

57

3048

S135

31

3536

D24×40,D24×40A, D24×40 Series II,
D23 × 30 S3 D24×40 S3

FS1#600

60.3

7.1

66.7

3048

S135

33

5440

D40×40

FS1#600

60.3

7.1

66.7

4572

S135

33

5440

D33×44, D36×50, D36 ×50 Series II

FS1#650

60.3

7.5

70

3048

S135

33

6800

D33×44, D36×50, D36 ×50 Series II

FS1#650

60.3

7.5

70

4572

S135

33

6800

D36×50, D36 ×50 Series II, D40×55 S3

FS1#700

68

10.54

79

3048

S135

44.2

6800

D36×50, D36 ×50 Series II

FS1#700

68

10.54

79

4572

S135

44.2

6800

D50×100/Uni60×70

FS1#900

73

9.5

82.55

3048

S135

51.4

12240

D50×100,D50×100A, D60×90

FS1#900

73

9.5

82.55

4572

S135

51.4

12240

D50×100,D80×100Series II, D60×90

FS1#800

88.9

9.35

92

4572

S135

51.4

13600

D100×120 Series II, D130×150,
D60×90, D60×90 S3, D100×140,
D100×140 S3

FS1#1000

89

12

111

6096

S135

60.2

20400

D55×100

#902

73

10

98

4572

S135

52

17628

D33×44, D36×50, D36 ×50 Series II

FS2

60.3

7.5

70

3048

S135

33

6800

D33×44, D36×50, D36 ×50 Series II

FS2

60.3

7.5

70

4572

S135

33

6800

D100×120

FS2

88.9

10

104.8

6096

S135

60.2

24480
DITCH WITCH COMPATIBLE HDD DRILL PIPE SPECIFICATIONS

Model of the rig


Connection


OD of
the Tube
(mm)


Wall
Thickness
(mm)


OD of the joints/upset
(mm)


Working
Length
(m)


Tempering
and
Quenching
Grade


Min
Bending
Radius
(m)


Max Torque
(N.m)

JT520

DW 1.21

28.7

5

44.45

1.5

S135

29.5

1220

JT920/921

DW 1.41

42.3

6.5

50.8

2

S135

28

2929

JT920L

DW 1.41

42.3

6

50.8

3.05

S135

28.1

2929

JT1720

DW 1.69

54

6.5

63.5

3

S135

35.8

6772

JT2020/20

DW 1.94

54

7.5

66.7

3

S135

35.8

8240

JT2720

DW 1.94

60.3

7.5

70

3

S135

40

7175

JT25/30

DW 2.11

60.3

8

70

3

S135

40

10542

JT25/2720M1/3020M1

DW 2.11

60.3

8.5

76

3

S135

40

18480

JT4020

DW 2.4

73

10

82.5

4.5

S135

48.5

13440

JT4020M1

DW 2.59

73

10.5

89

4.5

S135

51.4

18284

JT7020/8020

DW 3.27

88.9

9.35

101.6

4.5

S135

59

27132
CHINA COMPATIBLE HDD DRILL PIPE SPECIFICATIONS

Model of the rig


Drill pipe Form


OD of the Tube
(mm)


Wall Thickness
of Tube
(mm)


OD of the
Joint
(mm)


Thread
Type


Pin Length
(mm)


Working Length
(m)


Recommend Connection Torque
(N.m)


Bend Radius
(m)


Tempering and Quenching
Grade

50(2'')

Forged One-piece

50

6.5

57

ZD50

63.5

2.5

2700

33

S135

60.3 (2 3/8'')

Forged One-piece

60.3

7.5

67

ZD60

70

3

3500

38

S135

73 (2 7/8'')

Forged One-piece

73

8

80

NC23

85

3

5500

46

S135

73 (2 7/8'')

Forged One-piece

73

8

80

NC23

76.2

3

5500

46

S135

73 (2 7/8'')

Forged One-piece

73

10

87

NC26

85

3

6300

55

S135

76 (3'')

Forged One-piece

76.2

10

87

NC26

85

3

6300

55

S135

83 (3 1/4'')

Forged One-piece

83

9.19

92

ZD80

88.9

3

8800

59

S135

89 (3 1/2'')

Forged One-piece

88.9

9.35

105

NC31

88.9

4.5

9200

59

S135

102 (4'')

Friction Welding

101.6

9.19

127

NC38

112

6

14800

98

S135

114 (4 1/2'')

Friction Welding

114.3

9.19

127

NC38

110

6

19000

105

S135

114 (4 1/2'')

Friction Welding

114.3

9.19

139.7

NC40

126.3

6

19000

105

S135

114 (4 1/2'')

Friction Welding

114.3

9.19

158.8

NC46

126.3

6

25000

105

S135

127 (5'')

Friction Welding

127

9.19

168.3

NC50

126.3

6

45000

115

S135

127 (5'')

Friction Welding

127

9.19

168.3

NC50

126.3

9.6

45000

115

S135

140 (5 1/2'')

Friction Welding

139.7

10.54

190.5

51/2FH

139

9.6

65050

120

S135

168 (6 5/8'')

Friction Welding

168.3

10.54

215.9

6 5/8FH

127

9.6

86000

140

S135
Related Products
chemical composition analysis

flaw detection - upset connection area of each pipe is checked by ultrasonic test

hardness inspection

Tensile testing

Make test of each parameter by single parameter measurement of screw thread

Marking Geotec hdd rods

inspection thread

Check packing

Air pressure test of HDD reamer with 4Mpa pressure