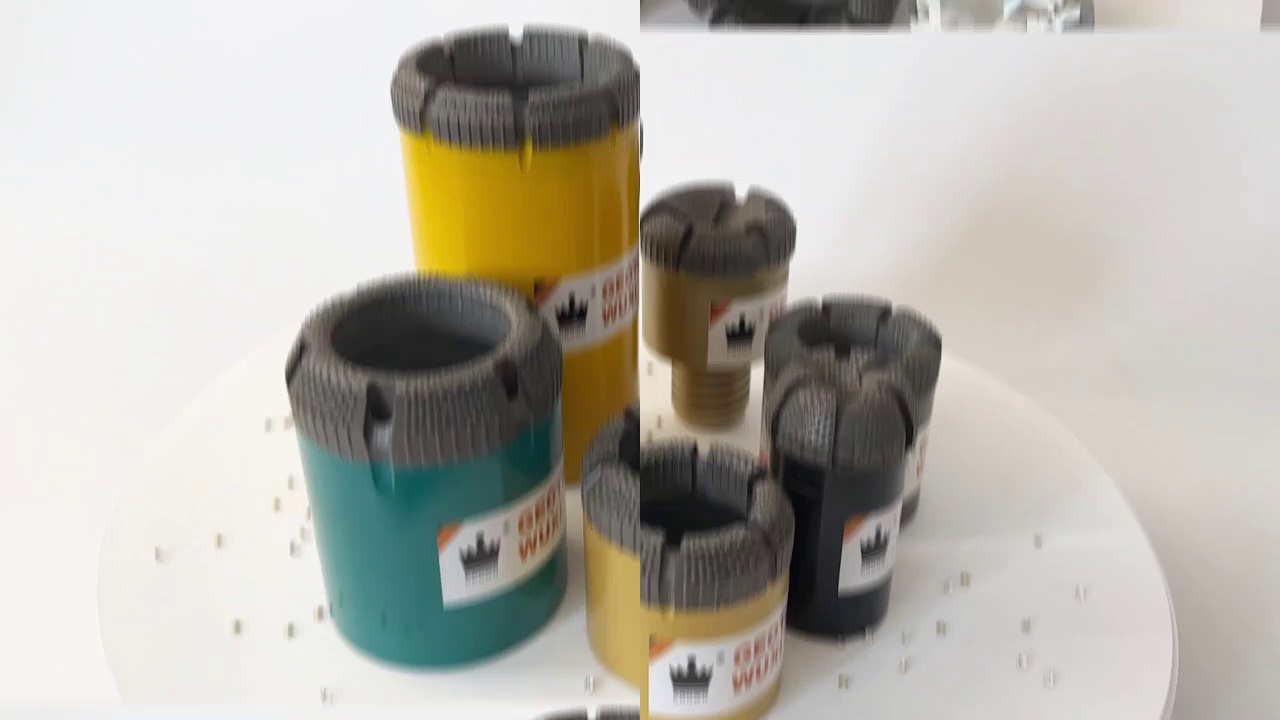 Zipper closure 1/5 zip athletic pullovers for men. Stretchy, lightweight, fast-drying fabric for superior performance. REGULAR FIT - US standard sizes. An athletic fit that sits close to the body for a wide range of motion, designed for optimal performance and all day comfort. FEATURES - Quarter zip closure;Thumbholes on long sleeves to keep them in place during workout
Natural Diamond Surface Set, set with a single layer of natural or synthetic diamond utilizing a hard matrix compound on the surface of the bit.

Feature of Surface-Set diamond bits

1. Shallower waterway.

2. Sufficient overlap to prevent premature wear of matrix.

3. Appropriate for soft, agrasive, unconsolidated rock formation,as well as, harder formation, where the available rotational speeds and bit loads are insufficient to use impregnated diamond bits due to drilling equipment limitations. Recommended for use in drilling harder formations.

4. CROWN bit manufactures a wide range bit with different diamond grades, size, arrangement,design to maximize cutting efficiency for various rock formation.
Stepped Type

Non-core Type

Round Type
Size Available
Drill Bit Available Series

Wireline Series

AWL,BWL,NWL,HWL,PWL,NWL-2,NWL-3,NWL-TT,
HWL-3,HWL-TT,PWL-3,PWL -TT, AWL-TK,BWL-TK

T2 Series

T2 46,T2 56,T2 66,T2 76,T2 86,T2 101

T6 Series

T6 76,T6 86,T6 101,T6 116,T6 131,T6 146, T6S 101,T6S 116

T Series

T36,T46,T56,T66,T76,T86

Z Series

Z46,Z56,Z66,Z76,Z86,Z101,Z116,Z131,Z146

B Series

B36,B46,B56,B66,B76,B86,B101,B116,B131,B146

WF Series

HWF,PWF,SWF,UWF,ZWF

WT Series

RRWT,EWT,AWT,BWT,NWT,HWT

WG Series

EWG,AWG,BWG,NWG,HWG

WM Series

EWM,AWM,BWM,NWM

Others

NMLC,HMLC,LTK48,LTK60,BGM,NGM,ADBG,TBW,TNW,
ATW,BTW,NTW,HTW,NXD3,AX,NX,NXC,AXT,T6H,4 9/16,
NWD4,412F,SK6L146, TT46,TB56,TS116,CHD101
Related Products